Who is your ideal partner?
I owe much of my knowledge and implementation experience to the various large Global SIs I have worked for over the years. I have experienced massive multinational projects with global rollouts delivering complex solutions in a range of contexts. Large SIs have some fantastic systems and processes and large teams with many certified consultants, huge infrastructure, and large facilities.
So, what's the problem?
It's about the size of your partners compared with your size and where you sit on their priority list. Typically, SI's have a few large accounts (Strategic Accounts), Sweet Spots (Captive Accounts), and Bonus or Experimental (Transactional Accounts).
The focus for large partners is Large Enterprise Customers and Sweet Spots which generate 80% of their revenue. Although they have a larger number of lower value accounts these generate around 20% of their revenue. This is an important criterion to consider.
As a customer choosing an SI, you need to understand where you sit in the triangle.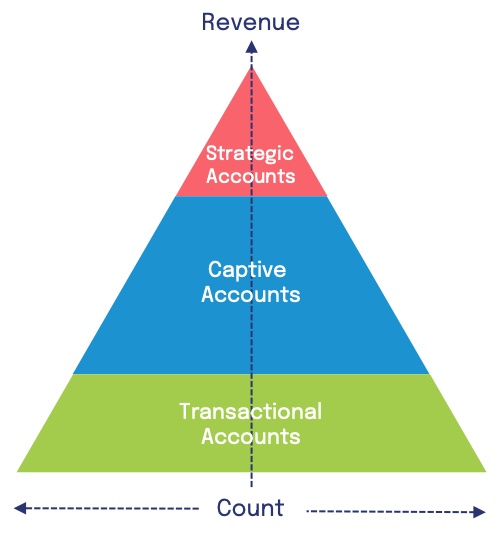 In many of our rescue projects, we see clients who have hired large consultancies who in turn presented their 'A team' during the Sales and Presales stages. They've showcased all their facilities, global presence, number of consultants, etc. However, when it came to the actual delivery the client ended up getting the 'C team' and the SI Project and Programme manager's single-minded focus on what was written in the contract rather than the value delivered through the project implementation.
This is further exaggerated when it's a packaged software implementation of higher complexity, since product knowledge, process experience, and implementation experience are all required in good measure to enable success.
We have consistently seen customers who found themselves at the bottom of the pyramid in terms of the priority of the large implementation partners. The other impediment in large partners means a larger bureaucracy and associated politics and team morale.
Having turned around implementations where customers had already spent huge sums with larger partners without success, we strongly recommend that you evaluate suppliers carefully.
Does this mean that large implementation partners are not effective or that they cannot deliver? Not at all – it is unthinkable for a global rollout of ERP or CRM in a large multinational, say Coca Cola can be handled by anyone other than Big SI's. The point we are making is that there is an optimal size to suit each organisation and we need to recognise this, as a matter of fact.
A few points that will help, from our experience:
It is important to get a commitment from the SI on the actual team that will be delivering the project.
Look at other factors as well, how hungry are they for this business, do you have direct access to the senior management in the event of a problem?
Most importantly, projects invariably have very difficult and trying phases, so check if you have a good connection with the SI team and a very good level of trust has been achieved; you will need it.