Salesforce for Small Businesses
Best Sales and Service CRM for Small Business by Salesforce with implementation expertise and service by Gauri.
Still using Excel, Outlook, Gmail or paper to manage your customer information? Then perhaps it's time to switch to a Salesforce CRM for Small Businesses solution configured by Gauri.
Why Salesforce for Small Businesses?
Salesforce is the world's #1 CRM system for small businesses. We have successfully delivered CRM solutions for over a decade and can get you up and running with Salesforce for small business configured by Gauri.
Salesforce CRM solution is segmented into three key modules namely Sales, Service, and Marketing. Salesforce CRM for small businesses configured by Gauri, therefore, enables a business to handle the entire spectrum of customer touchpoints, from lead nurture right the way through to customer support.
With our quick start implementation approach, Salesforce costs for small business implementation is very affordable.
It's intuitive
Salesforce has a highly intuitive user interface that can be customised to suit your business.
Runs in the Cloud
No need for expensive, upfront investments. All you need is an internet connection.
Provides a Holistic Customer View
Salesforce can be integrated with your existing email, calendar, contacts and tasks, as well as with other third-party systems such as accounting and social media.
Low Cost & Scalable
Salesforce pricing for Small Business starts from only £20 per month per user.
Customisable
Whilst packed with standard features, Salesforce can grow and be customised to evolve with your business.
A Platform That Grows With You
If it's not available 'out the box', it's probably available on the AppExchange, where there are over 5000 Salesforce certified apps to take Salesforce to another level.
Get Salesforce CRM for Small Business Sales Team
Save Salesforce costs for small business by cutting administrative work, track your sales process, nurture your leads and manage customer interactions with real-time insights and reports.
Get Salesforce Service CRM for Small Business Customer Service Team
Make your customers happy and drive customer satisfaction, build long-term relationships and improve your business standing to remain ahead of competition.
Why Salesforce Sales CRM is right for you?
Get More Leads
Sales Cloud enables you build your own Lead Machine by helping you track leads from click to close, while continually optimising your campaigns across every channel. More ever, insights from Lead Management help you make smarter decisions about where to invest your marketing budget.
Close More Deals
Get a complete view of your customers, including activity history, key contacts, customer communications, and internal discussions. Using these insights, always stay connected with the right people and the right information you need to close every sale.
Less Admin, More Selling
Track emails, calls and meetings automatically by syncing key info right from your inbox and G Suite to your Sales Cloud instantly.
Your Mobile As Portable Sales Office
With Salesforce, speed, intelligence, and personalization don't stop at the desktop. Access and update your data anytime with Salesforce mobile app.
Accelerate Productivity
Salesforce provides a simple point-and-click interface to automate most of the manual time-consuming business processes and approval requests so that you can focus on what matters the most: working with customers to close more deals.
Make Insightful Decisions
Turn your data into actionable insights. Salesforce dashboards and reports offer a real-time picture of your business at a glance. Stay on top of your business by fast, easy and accurate Sales Forecasting.
Why Salesforce Service CRM is right for you?
Effective Case Management
Resolve cases faster by combining streamlined processes with easy access to the full details, context, and history of every case and customer interaction.
Omni-Channel Routing
If you have a multi-discipline service desk, deliver smarter service by automatically matching cases to the agent with the best skill set to solve them.
Knowledge-base
Drive quick case resolution and maximize agent productivity with recommended articles and optimized article search.
Analytics and Deep Insights
Make your team and business smarter with prebuilt dashboards and apps and AI-powered insights and predictions.
Unified Customer View
Connect service cases with customer orders and individual products, to obtain deep insight on product-specific issues to improve customer service levels.
Service Process Automation
Customize and automate any service or approval process with drag and drop simplicity using Lightning Flow.
Telephony Integration
Integrate with most popular CTI systems. Log notes instantly when customers call. Plus, manage calls within console without touching the phone.
Automation with Macros
Free up your support agents by automating common, repetitive, multistep tasks to resolve customer issues more efficiently.
Why consider Gauri as your Salesforce Delivery Partner
Discovery and Scope
Crucial to the success of every CRM implementation is the careful preparation required in understanding your business needs, processes and the individuals that will use CRM. We make sure we understand every aspect of your requirements upfront, avoiding disappointment and the likelihood of disruptive specification changes both during and after a project is completed.
With a Gauri implementation, you're guaranteed optimal Salesforce CRM pricing for small business where there'll be no protracted and costly development delays, no disruption to your business and no cost over-runs. 
You have our word on that!
Show & Tell
During every project, however small, we will demonstrate the progress we've made in configuring the system so you can determine we're on the right track. A final 'show & tell' session prior to you signing off, will enable you to ensure we've delivered the solution you expected that will enable you to realise the business benefits you require.
Robust Technology
Our highly experienced team of perfectionists deliver technically robust, high-performance CRM solutions that adhere to the highest standards of best practice in systems architecture. Every project we undertake is overseen by some of the most experienced CRM architects in the industry, thus greatly reducing the possibility of post go-live technical issues and service disruption.
Avoid the 'Repeat Fix' trap
For larger projects that may require a high degree of customisation, Gauri's meticulous development methodology ensures that the desired functionality is delivered without repetitive bug fix cycles. 'Repeat Fix' cycles can massively increase the total cost of ownership of CRM over time and is unfortunately all too prevalent. Gauri has an enviable reputation with its customers for delivering 'one-time' fixes that ensure there are no unpleasant, costly and disruptive surprises waiting to materialise down the road.
Self-Sufficiency
We strive more than any of our peers to make every client as self-sufficient as possible. We are not in the business of 'milking' our customers by making them reliant on us for general maintenance or on-going enhancements should they prefer to support the system in-house. As part of every project we undertake, our customers receive in-depth technical documentation and comprehensive knowledge transfer. With a Gauri implementation, you can be as self-sufficient as you desire.
Resource Continuity
Our partnership ethos and highly supportive team environment has ensured we continue to enjoy a very high level of staff retention. This in-turn ensures you will enjoy a continuity of consulting resources post implementation with the knowledge to continue to support you effectively and economically well into the future. 
Trust & Transparency
We endeavor to be flexible and collaborative with every client we serve and seek to establish partnerships with our customers based on trust and transparency. This ethos has stood the test of time and continues to ensure we provide our customers with elegant CRM solutions that are delivered with passion and represent tremendous value for money.
Setting you up for Success
Our objective is to set you up for success by delivering a Salesforce solution that significantly enhances the performance of your business and delivers a substantial return on your investment through the lowest possible Salesforce for small business cost. So enough about us, we'd love to learn more about your challenges and requirements around CRM and how we might be of assistance to your business.
Drop us a line or two to tell us about your business and we'll be in touch.
QubePay

Read how Gauri helped enable an optimised and improved Salesforce adoption for a payment services company.
New
Groupe Atlantic

Read how Gauri implemented one of the largest Salesforce Field Service programme for a leading HVAC manufacturer in the UK.
RMS


Read how Gauri helped a leading retail merchant service provider to improve Salesforce adoption within the company and also save significant licensing costs.
Bathroom Manufacturer

Read how Gauri helped a leading luxury bathroom manufacturer to achieve the world's first Salesforce Field Service Mobile solution with 100% offline capability.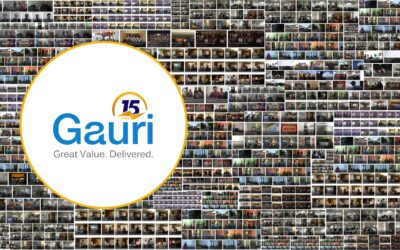 We are delighted to be celebrating 15 years of careful nurturing of our ideas, our ethos, our culture and our vision with which Gauri was founded. The idea grew from the experience of four consultants, who, having enjoyed delivering challenging, successful projects in...
read more