Integrate SAP ERP with Salesforce CRM to gain complete visibility of ERP data without leaving Salesforce.
Modern manufacturers using Salesforce CRM along with SAP ERP often struggle to achieve an integrated presentation of their customer relationships in a single view.
With Gauri's Enterprise 360-degree Accelerator, achieving this is simple and straightforward. We bring you all vital information sets from Salesforce and SAP on a single screen.
Overview
Salesforce offers great visibility on customer interactions. It provides its end-users (i.e. sales, service and agents) a complete customer 360-degree view taking data from across the Salesforce platform. However, many organisations have substantial elements of customer data outside Salesforce.
Gauri's Enterprise 360-degree Accelerator bridges SAP ERP and Salesforce CRM and provides users complete visibility of ERP data without leaving Salesforce. Users do not need to switch between two systems to obtain a complete view of the customer.
The Enterprise 360-degree Accelerator goes beyond simple use cases of the data interface. It can also manage complex organisation structures and information governance through granular access permissions. If required, you can also extend its functionality to integrate third-party services to understand your customer behaviour and wallet share.
Accelerator Architecture
Enterprise 360 accelerator architecture, which is a Salesforce App, directly connects to SAP ECC or S/4HANA without any middleware deployment. It is equipped with pre-built ERP extraction, Salesforce and SAP ERP Integration and Mapping; hence middleware is not required. This enables rapid, streamlined deployment.
A User-friendly user interface is readily available and data flow between Salesforce and SAP happens in real-time. Enterprise data is exchanged as objects with provision for custom fields.
Simple Operations
The Customer 360 Accelerator will simply present a button on your Salesforce Account screen where the user will be able to view the SAP data within the Salesforce screen. The user can also view SAP orders within Salesforce seamlessly without signing out from Salesforce and signing in to SAP.
Summary
Understanding the customer is an organisation's most prized capability. It requires a system that enables the efficiency and productivity of its workforce.
Gauri's Enterprise 360-degree Accelerator App for Salesforce brings you all the data from Salesforce and SAP into one window. Benefits are immense as it enables your Sales and Service personnel to perform their activities without loss of time or focus and with greater efficiency.
Give us a call to speak to our experts to learn more about our product and how we can help you in your digital transformation initiatives around Salesforce CRM and SAP.
Fast Facts
Easy Deployment
No Bespoke Code Development
Simple Architecture
Real-time Data Flow
No End-Point Restrictions
UI Ready
Flow Navigation
Enhancement Possibilities
Enterprise 360-degree Accelerator has the provision for additional fields in its data model, thereby its functionality can be extended via field remapping.
Data Governance
Role-based customisable authorisation from highest levels (i.e. product group) to the field-level detail is possible.
Ease of Upgrade
New releases introduce new features at a uniform interval and designed for easy incorporation by the clients. 
Audience Personalisation
The Enterprise 360-degree Accelerator allows your Sales and Service audience to view their role-specific information and perform their role-specific activities without logging out from Salesforce or logging into SAP.
Additional Personalisation
Sales Personnel can track SAP MTO and OTC processes such as order pricing simulation, sales order placement, stock checks, billing progress without logging into SAP
Service Personnel can track SAP customer service processes such as returns, refunds, and reordering (if required) without logging into SAP.
Drop us a line or two to tell us about your business and we'll be in touch.
QubePay

Read how Gauri helped enable an optimised and improved Salesforce adoption for a payment services company.
New
Groupe Atlantic

Read how Gauri implemented one of the largest Salesforce Field Service programme for a leading HVAC manufacturer in the UK.
RMS


Read how Gauri helped a leading retail merchant service provider to improve Salesforce adoption within the company and also save significant licensing costs.
Bathroom Manufacturer

Read how Gauri helped a leading luxury bathroom manufacturer to achieve the world's first Salesforce Field Service Mobile solution with 100% offline capability.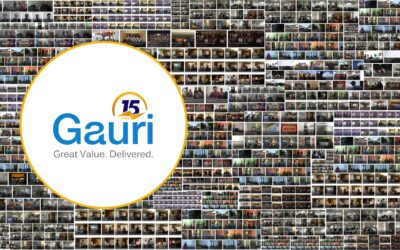 We are delighted to be celebrating 15 years of careful nurturing of our ideas, our ethos, our culture and our vision with which Gauri was founded. The idea grew from the experience of four consultants, who, having enjoyed delivering challenging, successful projects in...
read more